Sit down for a speed date with Feed Rinse.
Give us a minute to woo you with our skills. If our exceptional RSS hygiene turns you on, continue the affair by signing up. Did we mention we find you very attractive?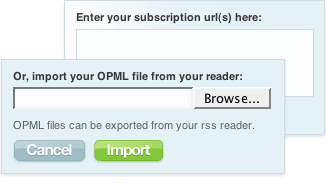 STEP ONE
Import your feeds.
Getting your feeds into Feed Rinse is easy. You can enter subscription url's manually or import an OPML file from your favorite RSS reader (Feed Demon, FeedLounge, NetNewsWire, MyYahoo!, Rojo, etc.) We even have a bookmarklet that allows you to add feeds with a single click.
STEP TWO
Set up your filters.
Once you've imported your feeds, it's time to set up your filters and put Feed Rinse to work. You can block posts by keyword, tag or author. For example, if you read engadget to get the scoop on the newest laptops but aren't interested in today's fancy new Samsung cellphone, Feed Rinse has your back. See what others are filtering.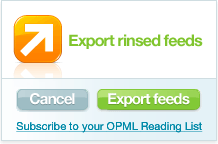 STEP THREE
Export your rinsed feeds.
Getting your rinsed feeds into your reader is easy. Feed Rinse creates an OPML Reading List that many RSS readers can subscribe too - two clicks and you're done. If your reader doesn't support Reading Lists, simply export the OPML file and import it into your reader. Filtered feeds will be marked with an asterisk. The RSS icon next to each of your feeds will also give you a rinsed link if you'd like to manually modify your subscription info in your reader. You pick the option that's right for you.
STEP FOUR
Revel in the flexibility.
With Feed Rinse, you can come back and make modifications at any time. Your changes are automatically integrated into your feeds. And best of all, you can access your feeds from any RSS reader at any time (filter home and work feeds in one place). It's that easy.